Strictlyflair is a top bartending company in New York established by a few individuals in 2007 in San Francisco to promote flair bartending to the world by organizing flair competitions, events, and shows. Our Team also participates in organizing and staffing any events such as weddings, birthdays, or any events to spice up the party. We believe in entertainment and accordingly, provide entertainment at any party to elevate the occasion. In 2010 we move its brand to Las Vegas and thrive for 5 years making its team strong with the world's best flair bartenders to provide top-notch service and entertainment.
Now Strictlyflair is open for business in New York by providing Bar Service Catering, Hire Flair Bartender, Bar Consulting, and Flair courses. From corporate events to weddings and everything in between, we offer a range of customizable bar services and flair bartenders to suit any event's needs. Our professional and talented bartenders are dedicated to ensuring that each guest receives exceptional service, with attention to detail and a commitment to quality.
Whether it's crafting custom cocktails, flair bartending, or bar consulting, we go above and beyond to make sure that the service we provide is exceptional and exceeds your expectations. As well as our Bartending School is providing service in Nepal since 2018 with the WFA grading center till the green level and has already gained the respect of the community. Strictlyflair is in the process of opening Flair Bartending and Mixology Schools in your nearest city to provide exclusive training and services.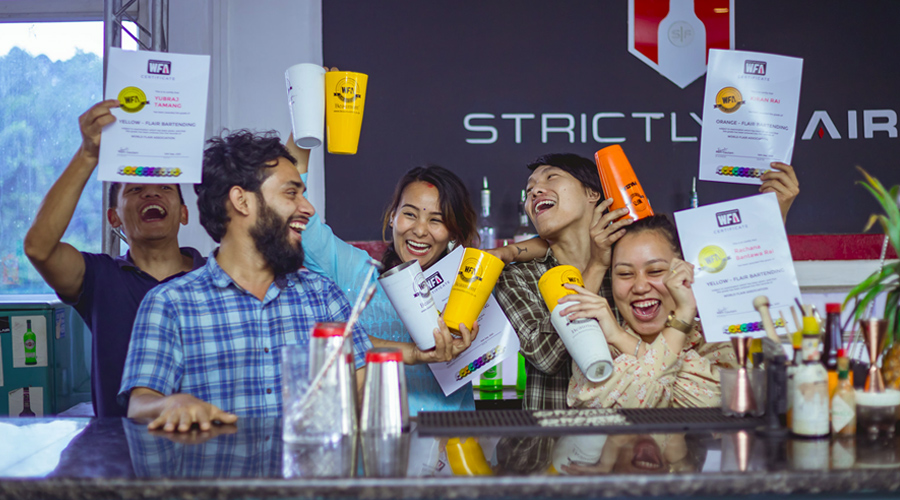 Strictlyflair School Nepal is a branch of Strictlyflair. The courses we provide in our school are different and is taught with perfection to make you perfect and talented.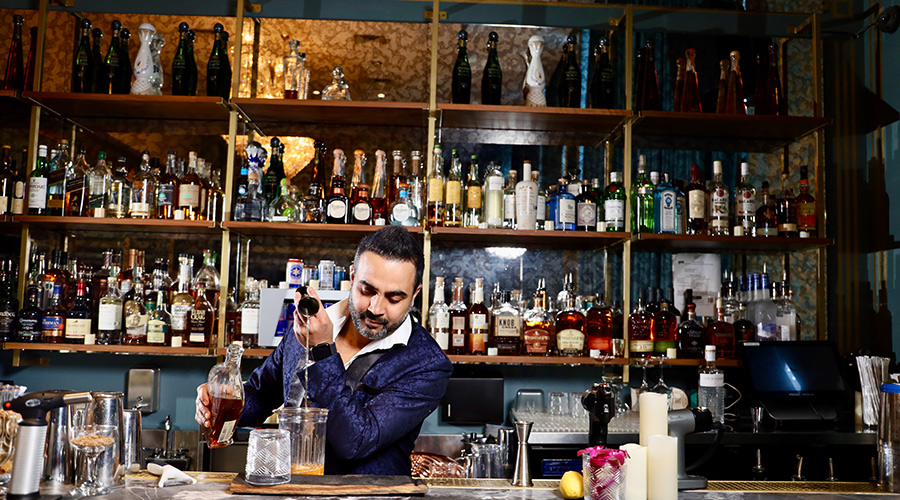 Strictlyflair USA is running Flair Courses in New York at the moment and we travel to your city to teach 2 day flair courses. You can also hire a Flair Bartender for you event.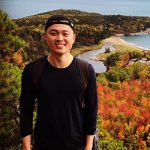 "I just wanted to express my sincere gratitude for the exceptional service strictlyflair provided at my bachelorette party. From the very beginning, they were incredibly responsive and helpful in planning the bar service for my event. Their team arrived on time and were extremely professional and friendly throughout the night.
The cocktails served were absolutely delicious and beautifully presented. All of my guests were raving about how much they enjoyed them, and I personally couldn't get enough of the signature drink they created just for my event. The variety of drinks they offered was impressive, and their team was always willing to make adjustments based on the preferences of my guests. They also took care of all the setup and cleanup, which made the entire process stress-free for me as the hostess."
Elvis Chen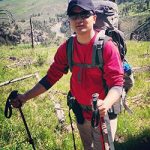 "On my 40th Birthday I hired few flair Bartenders who were simply outstanding. From the moment they arrived, they brought a high level of energy and enthusiasm that immediately got everyone excited. Their skills in juggling bottles and glasses were truly impressive, and they had an incredible ability to make every drink they created a work of art. Watching them behind the bar was like watching a master craftsman at work."
Remy Chao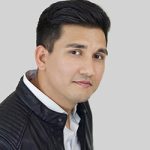 "I recently completed a flair bartender course with Strictlyflair, and it was an amazing experience! The course was well-structured, and the instructor was incredibly knowledgeable and passionate about the craft of flair bartending. I learned so much about the different techniques and tricks used to create stunning cocktails and entertain guests."
Praveen Sharma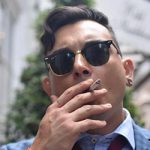 "I had the pleasure of working with a talented mixologist who helped me create a cocktail menu for my restaurant. From start to finish, the process was smooth, and the result was outstanding. The mixologist took the time to understand my restaurant's theme, ambiance, and target audience to create cocktails that perfectly complemented my menu and satisfied my customers.
The mixologist had an extensive knowledge of spirits, mixers, and garnishes, and came up with unique and creative cocktail recipes that were both visually appealing and delicious. They also provided me with recommendations for glassware and presentation, which made a significant difference in the overall aesthetic of the menu."
Angel Silva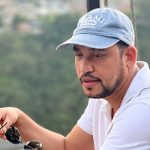 "I recently hired a flair bartender from Strictlyflair for my event and not only was his flair bartending skills top-notch, but he also demonstrated a remarkable ability to engage and entertain the crowd. He kept everyone on their toes with his impressive juggling, flipping and spinning of bottles, all while pouring delicious cocktails and keeping the bar running smoothly."
Krish Thakuri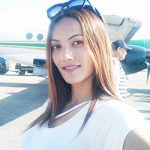 "I recently hired strictlyflair bar service for my event, and I was extremely impressed with the level of service that they provided. From the initial consultation to the day of the event, their team was professional, responsive, and attentive to our needs.
The bartenders were knowledgeable and friendly, and they created delicious cocktails that were a hit with all of our guests. The setup was also impressive, with a well-stocked bar and all of the necessary equipment and supplies.
I would highly recommend strictlyflair to anyone looking for a top-notch experience. Their commitment to quality and customer satisfaction is truly unparalleled, and I look forward to working with them again in the future."
Sophia Rossi